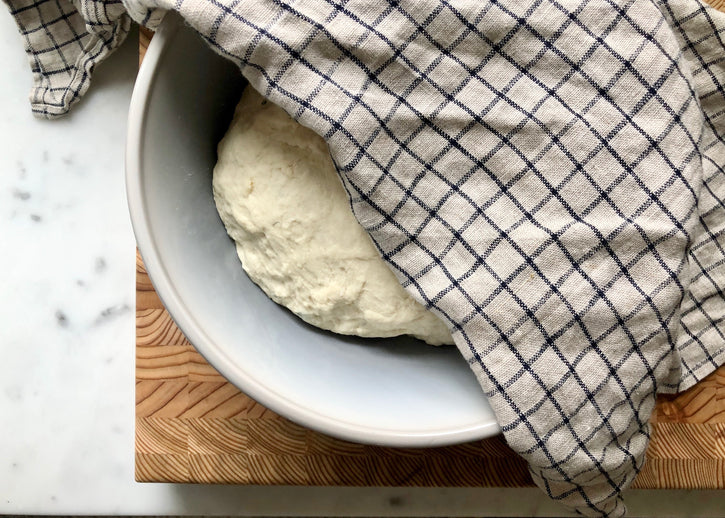 7 April 2020
. In the span of a few short months, our lives have changed forever. While we absorb this change, we're taking great comfort in our kitchens. As we get creative with pantry staples we have on hand, we've been simmering lots of beans, making fried rice out of refrigerator leftovers and making (and eating) a lot of bread with those packets of yeast that have been sitting around waiting for a rainy day. Guess what? That day is here.
In the midst of our kitchen messes, we've become even more thankful for our beloved kitchen cloths. Although we agree they're very pretty, they are not afraid of hard work. In two weights,
regular
 and
thick
, our cloths are up to your kitchen challenges. Made from 100% linen that's grown, woven and sewn in Lithuania, our cloths are on hand to help with a variety of kitchen tasks from wiping up spills and drying dishes, to keeping rising dough covered on our countertops.  
We love seeing how one of our favorite food bloggers, Marcella DiLonardo, AKA
Modest Marce
, is using our
Jenn
kitchen cloth as she makes challah bread. With the April holidays coming up, we've bookmarked two of her bread recipes to try out: her
chocolate and almond swirl
bread and her
cinnamon roll challah
. And if there are any leftovers (although we can't imagine how) her recipe for
challah bread
pudding
 sounds divine.  You'll be able to find these recipes and more in her book,
Bake the Seasons
. It's a keeper for sure. 
Here's wishing you health and peace from our kitchen to yours.