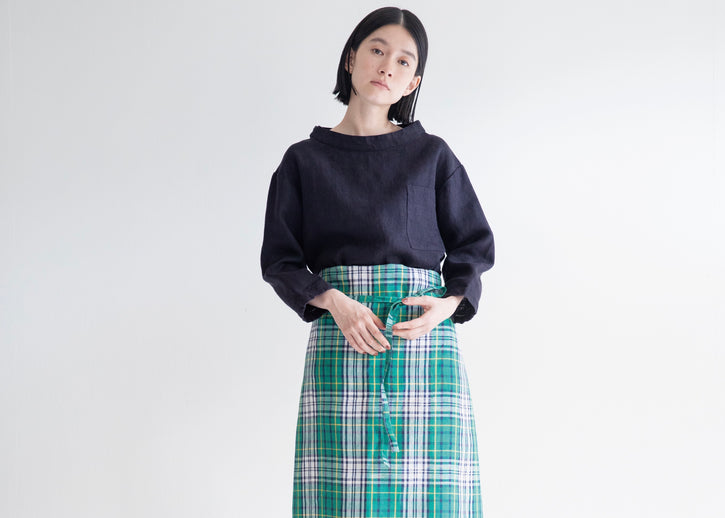 09 November 2023. As we settle into cooler temperatures, we're looking forward to the comfort and warmth of the At Home clothing collection. Each piece is thoughtfully and simply designed with a nod to utilitarian work clothing, and can be worn around the home or out and about. With shapes that invite layering, this collection uses medium and heavier weight linens to keep you warm this season. We like to think of it as our cold weather uniform!
Here are some of our favorites from this new collection:
Maria Apron Dress: An a-line apron dress with adjustable shoulder straps and a drawstring at the back of the dress to adjust the waist. Wear with a long sleeve knit or sweater underneath, there's plenty of room for layering over pants or leggings as well. In Iris.
Caroline Dress: This pretty dress with a band collar and an a-line shape is enhanced by generous gathers in the back for a soft, voluminous look. In Ciel, Minnie and Steph. 
Elle Overalls: Comfy overalls for the win! The Elle Overall has  adjustable shoulder straps, a slightly tapered full leg, and a tie in the back that adjusts the waist. In Silt.
Siiri Work Coat: A fun take on the classic work coat, Siri has a roomy fit, flap closure patch pockets at the chest and big patch pockets at the front waist. A great coat for cooler weather with plenty of room to layer underneath. In Ochre.
Kerttu Top: A great top with a band collar and an a-line shape with gathers at the back of the neckline for a soft, voluminous look. The rounded split hem is a bit longer in back than in front. In Navy Pin Stripe. 
Josefiina Top: The perfect cool weather uniform for every day, Josefiina is a pullover top that features a stand collar and an easy a-line shape. There's a patch pocket at the chest and side pockets as well. A great piece to layer over a turtleneck or sweater during colder weather. In Bluette, Graphite and Ochre. 
Shop the full At Home clothing collection here.